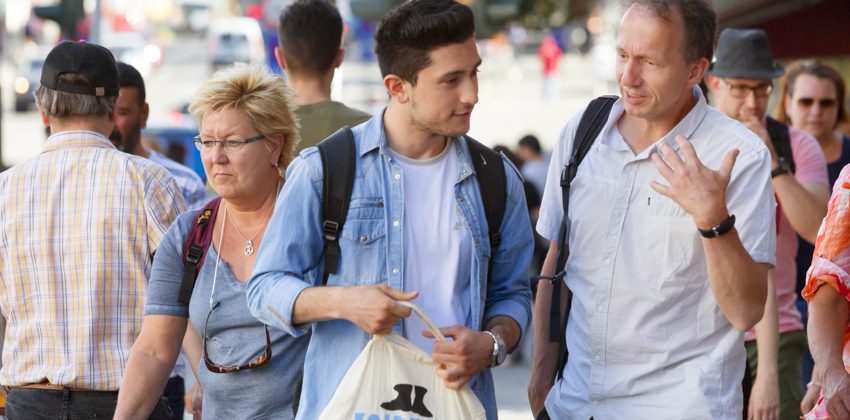 Neukölln aus Sicht eines Neu‐Berliners
The tour starts at the station Neukölln and endes in the Sonnenallee (close to Hermannplatz).
Mohamad ist in Aleppo aufgewachsen, seine Familie kommt aus der syrisch‐kurdischen Region Afrin. Auf seiner Tour zeigt er euch die arabische Seite von Berlin‐Neukölln, und wo er sich hier kulinarisch zu Hause fühlt. Unterwegs berichtet er auch von seiner Flucht nach Deutschland und was ihn heute bewegt, wenn er die Bilder des Krieges in Afrin sieht. Und ihr erfahrt, welche Anlaufstellen im Viertel gerade für die kurdische Community wichtig sind.
Group bookings
For group tours, you can arrange individual bookings with us.
This is how it works
Specify your preferred date, time etc. via our booking form
Initially the booking request is non‐binding. You have therefore not booked until you confirm our offer via e‐mail.
Registration fee
For groups, we charge a flat fee based upon the type and size of the group.
Payment methods
Following your booking we issue an invoice of which the amount is to be transferred to our account. Please note that we can only accept cash payments in exceptional circumstances.