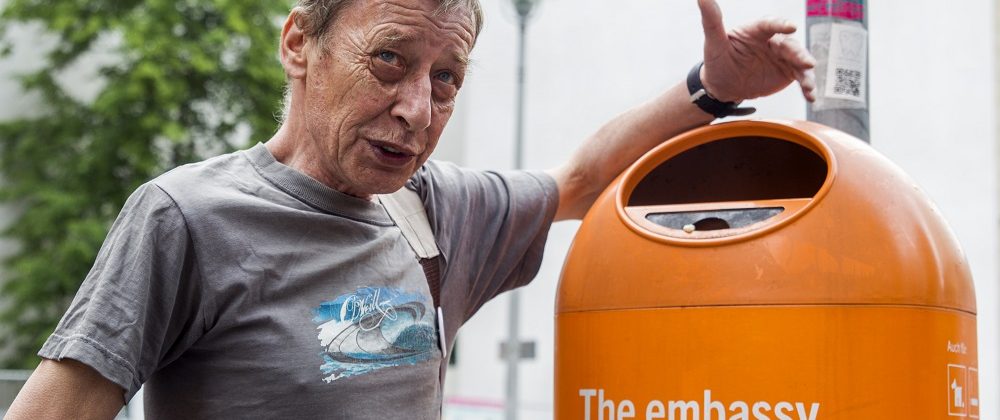 Two bottles are a bread roll
The city tour starts at the corner of Leipziger Straße 54 and Niederwallstraße near the tube station Spittelmarkt (U2) and ends at Checkpoint Charlie (U6, Bus M29).
Zwischen 2002 und 2011 legte Klaus jeden Tag viele Kilometer zu Fuß zurück. Er sammelte Flaschen, um das Geld zum Überleben zusammenzubekommen. Auf seiner Tour entlang seiner damaligen Route beschreibt Klaus, warum er sich auf der Straße lieber allein durchschlug als in der Gruppe und versuchte, im öffentlichen Raum unsichtbar zu bleiben. Und er erzählt, warum es gut war, dass er eines Tages doch von jemandem entdeckt wurde.
Group bookings
For group tours, you can arrange individual bookings with us.
This is how it works
Specify your preferred date, time etc. via our booking form
Initially the booking request is non-binding. You have therefore not booked until you confirm our offer via e‑mail.
Registration fee
For groups, we charge a flat fee based upon the type and size of the group.
Payment methods
Following your booking we issue an invoice of which the amount is to be transferred to our account. Please note that we can only accept cash payments in exceptional circumstances.